---
Strange Music is proud to announce the first annual Strange Music MVP Awards! We are giving you, the fans, the absolute power to let your voices be heard. 2011 was a spectacular year for Strange Music, and with Tech N9ne leading the way, the Strange Music roster rose to the challenge and left an undeniable footprint in the music industry. The Strange Music MVP Awards are your chance to support your favorite artist as we ask – who made the biggest impact on Strange Music in 2011? Other major categories include "Who's Next?!" – let us know who you think will be the next major player on Strange Music and "Most Wanted" – who do you want to see sign with Strange Music? Don't miss your chance to be a part of the first annual Strange Music MVP Awards!
Vote for Watts' finest as Jay Rock lands several major nominations for: "MVP Of The Year", "Album Of The Year", "Song Of The Year", and more!  Vote now!
Click here to vote for the Strange Music MVP Awards 2011.
---
---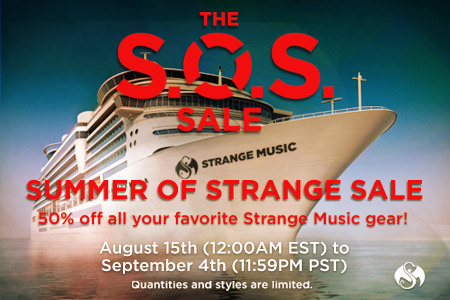 Summer's in full swing and we have the perfect way to beat the heat – the S.O.S. – Summer Of Strange sale!
For a limited time you can get all your favorite Strange Music gear for 50% off! Don't let this opportunity pass you by – get all the items you've been wanting for 50% off – but remember, quantities, sizes and styles are limited!
Get in on the Summer Of Strange sale and stock up on the must-have merchandise from Strange Music!
Sale starts on 8/15 at 12:00AM EST and ends on 9/4 at 11:59PM PST. Does not apply to previously placed orders. Orders for items that are out of stock will be refunded. Click here to start shopping!
---
Jay Rock's debut album Follow Me Home is available for purchase on iTunes.  Featuring an impressive line up of guest appearances by Lil Wayne, Tech N9ne, Krizz Kaliko, Rick Ross, Chris Brown, Black Hippy, Kendrick Lamar, BJ The Chicago Kid, and will.i.am.  Follow Me Home is sure to blast speakers with production from J.U.S.T.I.C.E. League, Tha Bizness, Willie B, and Cool & Dre.  Also included are the smash singles "Hood Gone Love It", "Westside", and "Say Wassup".
Blaze up this summer with the hottest West Coast release as Top Dawg Entertainment and Strange Music bring you Jay Rock's Follow Me Home.  Purchase your copy now on iTunes!
Click here to purchase Follow Me Home on iTunes.
---
On 7/26 Jay Rock invites you to Follow Me Home with his highly anticipated Strange Music debut album.  Here's your chance to preorder your copy of Follow Me Home and experience Jay Rock for yourself.  With gritty and honest tracks like "All My Life" and "No Joke" and featuring artists like Lil Wayne, Chris Brown, Rick Ross and will.i.am, Follow Me Home is sure to be an instant classic.  With your preorder you'll receive an autographed copy of the CD, a bonus track, a limited edition shirt (XL only) and a full-color Jay Rock sticker.  So click here to preorder your copy of Jay Rock's album, Follow Me Home, and hear his story from the start.
---
Fans went on Twitter to show Jay Rock some birthday love this week. Our West Coast spitter turned 25 on March 31. Continue reading
---
As if the release of Tech N9ne's album, All 6's And 7's, isn't enough to have fans excited about summer, Strange Music proudly announces TECH N9NE PRESENTS: ALL 6'S AND 7'S – THE TOUR. This highly anticipated tour, Tech's first since last year's Independent Grind Tour, spans over 65 shows from coast-to-coast and is sure to be in a city near you. Continue reading
---
Last Friday Jay Rock went on UStream to announce the release date of his debut album Follow Me Home. Jay Rock wasted no time to let everyone know that May 17 is the day that Follow Me Home becomes available and puts the West back on the map.  With Lynch's album dropping in April, and releases coming out from Dr. Dre and The Game, it looks like 2011 will be a big year for West Coast hip hop. Continue reading
---
Top Dawg Entertainment and Strange Music proudly present the release of Jay Rock's Black Friday mixtape. With his insatiable drive and relentless hunger, Jay Rock has already proven himself to be a key figure of the New West movement.  In a time when the landscape of hip hop is over saturated with lazy club hits and "MCs" who have nothing to say, Black Friday is the perfect holiday gift for fans and rap heads alike who desperately seek something real to keep their heads moving throughout the winter. Armed with a gritty baritone flow and soulful delivery, Jay Rock takes listeners on a journey through the sights and sounds of the streets with the help of guests like Kendrick Lamar, Big Scoob, Ab Soul, Spider Loc and more.  Don't miss the latest release from one of hip hop's rising stars and download your copy of Black Friday today.
Click here to download your free copy of the Black Friday mixtape.  In 2011 be on the lookout for Jay Rock's debut album release Follow Me Home.
---